Maternal Mental Health Service (Trauma, Loss and Fear)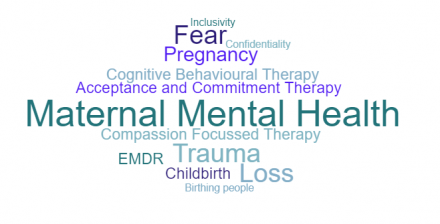 The Maternal Mental Health Service (MMHS) provide support and therapy to women and birthing people who are struggling emotionally during pregnancy, after a difficult childbirth or with the loss of a baby.
This service has been developed alongside people and families who have experience of maternity trauma and loss themselves.
Who we are
We are a small team, including:
Dr Catherine Parker – Consultant Clinical Psychologist, and Clinical Lead for MMHS
Ria Lowrie – Senior Psychological Therapist
Sophie Bradbury – Cognitive Behavioural Therapist
How we can help
We offer personalised and evidence-based care that considers what has or has not been helpful for you in the past. We will work with you to develop a plan that is suited to meet your individual needs.
Our team may:
Offer you 1:1 talking therapy
Give you advice on other services that may be helpful
Provide information on support services for partners and significant others
How do I get referred?
The MMHS accepts referrals from any member or your maternity care team, such as midwives, obstetricians, health visitors, and from your GP. We expect to offer you an appointment within four weeks of this referral being received.
The MMHS will currently accept referrals if you have:
Fear, anxiety or phobia related to pregnancy, childbirth, hospital or medical procedures.
A traumatic experience related to pregnancy or childbirth.
Multiple miscarriages or loss of a baby.
If you haven't heard from us after a few weeks, please feel free to contact us at mmhs@ncic.nhs.uk
What to expect if you come to see us
Following referral, you will be invited to attend a first appointment with a member of our team. This will last about 50 minutes. During this appointment, we will aim to find out more about:
The difficulties you are experiencing
What's important to you
Any hopes or goals you may have
How we can best support you
This session will be at a pace that suits you. You will not be expected to speak about anything you would prefer not to.
Together, we will agree on a plan based on what will be most helpful to you. This might include one-to-one talking therapy, such as:
Cognitive Behavioural Therapy (CBT)
Eye Movement Desensitisation Reprocessing (EMDR)
Compassion Focused Therapy (CFT)
Acceptance and Commitment Therapy (ACT)
Confidentiality
Details of your sessions will be put on your medical record. Please let us know if you do not want something you have told us shared with your GP of other members of your care team.
We will only pass on details outside the team when you give permission, or if we think you are at risk of harm and we need to protect you or others.
Inclusivity
Our team is inclusive and respectful. If there is anything we can do to make the appointment easier for you, please let us know and we will accommodate these wherever possible.
Interpreting and Translation
An interpreter can be requested to be present at appointments. Written information may also be translated upon request. Please let the team know if an interpreter or translation is required.
How to contact us
The MMHS is open Monday to Friday from 9am to 5pm (excluding bank holidays). Telephone and email enquiries are welcome from people seeking support and from health and social care professionals.
Telephone: 01768 245954
Email: mmhs@ncic.nhs.uk
How to access urgent help
Please be aware that the MMHS is not an urgent/emergency service. If you feel like harming or hurting yourself or other people:
Call 999
Go to your nearest Accident and Emergency department (A&E)
Crisis Support
If you have a mental health problem and are experiencing a mental health crisis, you can contact your local NHS Crisis Resolution and Home Treatment Service (CRHT). The CRHT team are made up of experienced mental health staff, including nurses, social workers, psychiatrists and pharmacy staff. They offer assessment and home treatment for people aged 16+ experiencing a mental health crisis, as an alternative to hospital admission.
The team operates 24 hours a day, 7 days a week. However, the crisis team does not provide an 'emergency' service such as a 999 response.
North Cumbria: 0800 652 2865 (Those who are deaf/hard of hearing can text 07795 656 226) OR contact the Access and Liaison Integration Service on 0300 123 9015 available for people experiencing acute mental health distress and their carers.
South Cumbria: 0800 952 0110 (Wellbeing Helpline & Texting Service staffed by volunteers also available Mon-Fri 7pm-11pm and Sat-Sun 12pm-Midnight on 0800 915 4640 or by texting 'Hello' to 07860 022846).
For non-urgent situations
Visit your GP
Call NHS 111 – Also open 24 hours a day, 365 days a year. Trained nurses can tell you about your local crisis support services or your nearest A&E department. Other health advice can also be provided.
Call Samaritans on 116 123 (Freephone) – Samaritans provide confidential, non-judgemental support for people experiencing feelings of distress.
Other helpful links
Birth Trauma Association (BTA) – https://www.birthtraumaassociation.org.uk/#
The BTA are a charity who support women suffering with birth trauma. They have a team of peer supporters: women who have all experienced traumatic births themselves and have been through a process of recovery that are available to contact.
Miscarriage Association - https://www.miscarriageassociation.org.uk/how-we-help/
The Miscarriage Association provides support and information to anyone affected by miscarriage, ectopic pregnancy or molar pregnancy. They offer:
Staffed pregnancy loss helpline (available Mon-Fri 9am-4pm)
Free confidential live chat service
Support groups
Other online support resources
Sands - https://www.sands.org.uk/support-you
Sands is the leading stillbirth and neonatal death charity in the UK. They offer:
National bereavement support through their helpline (available Mon-Fri 10am-3pm, and 6pm-9pm on Tuesday and Thursday evenings)
Free bereavement support mobile app
Online community
Other online support resources
Local support may available through a UK-wide network of around 100 regional support groups.
Find your nearest Maternity Voices Partnership - https://nationalmaternityvoices.org.uk/find-an-mvp/
MMHS resources
PDF information leaflet for service users
Information for referrers
If you are a health professional and would like to discuss a case with one of our team, please do not hesitate to contact us on 01768 245954 or via email at mmhs@ncic.nhs.uk - You can book an appointment to speak to us for further advice.
Please note: Potential patients should speak to a member of their maternity care team or their GP to request a referral.