Persistent Physical Symptoms Service (PPSS)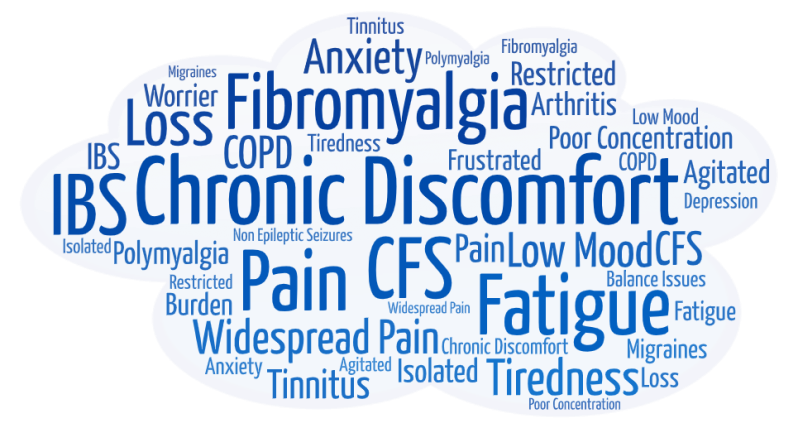 Referral Criteria
You need to:
live in North Cumbria
have physical symptoms that are stopping you from living a happy, healthy life and that have lasted for at least 6 months.
GPs, medics or physiotherapists can refer people into this service.
Who are we and what do we do?
Our team is made up of Psychological Therapists, Physiotherapists, Occupational Therapists and Living Well Coaches.
Our team will work with you to help you to explore and understand how you can manage and live with your symptoms. We will help you to make positive changes, for example:
Managing your pain
Helping you to sleep better
Returning to activity and movement
Helping to manage fatigue and tiredness
Managing anxiety, low mood, and stress
Helping you to learn how to take care of yourself
Managing unhelpful thoughts
Building better routines
Helping you to get back to work or hobbies
We do not offer medication advice, or send people for tests or scans.
See the drop-downs below to find out more about the individual roles found in the PPSS team. Our PPSS Allied Health Professional page provides more detail about what 1:1 support our physiotherapists and occupational therapists may be able to offer.


What is the role of Living Well Coaches in PPSS?
They will work with you on issues that may be getting in the way of you living a happy, healthy life. This involves helping you to set goals, and supporting you to achieve these. They may also give you information about other services that may be able to help you.
What is the role of Occupational Therapists in PPSS?
They will help you with practical activities to increase your quality of life. This may include:
Self-care – washing, dressing, toileting and bathing
Work – return to work, helping you to stay in work
Hobbies – finding a way to access hobbies and interests which you used to enjoy
What is the role of Physiotherapists in PPSS?
They can offer education on pain and fatigue, and support you to move safely, and increase your physical strength and stability.
What is the role of Psychological Therapists in PPSS?
They will offer you talking therapy to help you to improve your mood and to understand how your physical symptoms and your mood are linked.
Some of the types of therapy that may be used are:
Cognitive Behavioural Therapy (CBT)
Eye Movement Desensitisation Reprocessing(EMDR)
Compassion Focused Therapy (CFT)
Acceptance and Commitment Therapy (ACT)
Please click here to find out more about these different therapy types.
What to expect if you come to see us?
If you are referred to our team, you will be invited to attend an assessment appointment. We will discuss your physical symptoms and how these are affecting you.
We will discuss the treatment options, and together we will agree a plan.
You may be invited to one of our groups to learn different ways to manage your symptoms, or to individual appointments with one of our team. We may also help you to access a different service that can better meet your needs.
Confidentiality
Details of your sessions are put on your medical record, but you can tell us if you do not feel ok with anything being shared with your GP or other members of your care team.
We will only talk about you outside the team when you give permission, or if we think you are at risk of harm and we need to protect you or others.
We will keep your GP and/ or consultant up to date by sending letters about your appointments so they know how you are and what you are currently working on – you will also get a copy of these letters.
Why this approach?
Information from the National Institute for Health and Care Excellence suggests that working together with you in this way gives you the best opportunity to lead a happier, healthier life, even with difficult physical symptoms.
What do our patients say?
Read how Sue was able to manage her pain and fatigue following a PPSS 'Living Well' Group
"When I was first asked if I'd like to join a Living Well Group I felt really unsure, but said I would go along to it to see what it was like.
When it came to the first day of the course, I felt very apprehensive and nervous, but told myself: "It is better to try it and not like it, than not try it at all, and possibly miss out on something good." Also, I knew that if I didn't like it I could leave.
Well, all I can say is that the course was one of the best things I ever did. The people running the group were very approachable, laid-back, had a great sense of humour (which in my opinion is very important). They were non-regimental and made everyone feel very relaxed and welcome - an approach that stayed throughout the course.
Mixing with other people with the same or similar problems was fantastic, because it made me realise that I wasn't alone in life. It made me feel sane. I wasn't being judged, I was accepted and this made me feel normal. The other people in the group knew what I was talking about and could relate to what I was saying. I also learnt a lot about my illness and how to cope with it – all in a friendly and relaxed atmosphere. The list goes on. But to say it was a group I really looked forward to going to each session speaks volumes not only for the tutors and group members but also the atmosphere and content of the sessions.
The initial nerves and apprehension are a normal feeling going into the unknown, so my advice to anyone being offered the chance to attend a group is: go along to it, and give it a try. It could be one of the best decisions you'll ever make."