Neuropsychology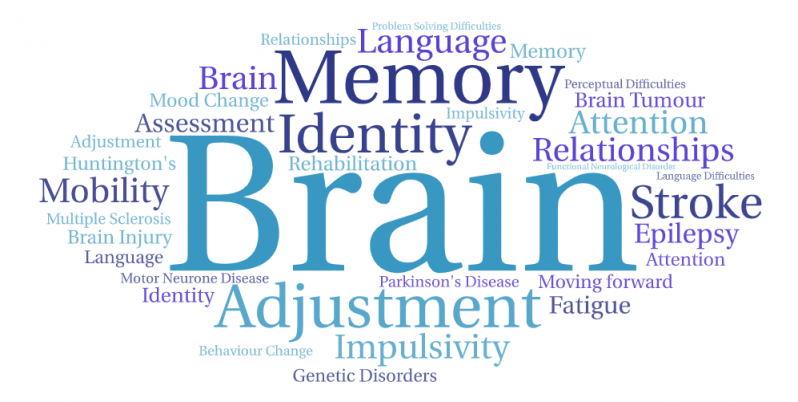 Referral Criteria
You can be referred to this service if:
Your postcode/ GP surgery is based within North Cumbria
You have a neurological (brain) condition, diagnosed or under investigation - we do not work with those with acquired brain injury, dementia or neurodevelopmental disorders as they have their own specialist services.
You are experiencing difficulties with cognition, or "thinking" skills. This may include noticing problems with attention, language skills, memory or judgment/decision-making abilities.
Any health professional involved in your care can refer you. You can also get in touch with the team directly. If you are a health professional and unsure and would like to discuss a case with one of our team, click here for our duty consultation contact number. You can book an appointment to speak to us for further advice (this is not for patients).
Alternatively, health professionals can complete and return the neuropsychology referral form.

Who are we and what do we do?
We are a team of neuropsychologists. We support people with a neurological (brain) condition. We work with you, and sometimes your family and/or carers to provide assessment, therapy and cognitive rehabilitation as needed.
Some of the conditions we work with most often include:
Multiple Sclerosis
Motor Neurone Disease
Stroke
Parkinson's disease
Epilepsy
Brain tumour
Huntington's
Rare genetic conditions
Other brain-related health conditions
People with acquired brain injury, dementia or neurodevelopmental disorders have their own specialist services.

What is a Neuropsychologist?
There are 3 Consultant Clinical Neuropsychologists in our team who cover the Cumbria area.
Neuropsychologists see people who are experiencing changes in their thinking skills as a result of a neurological condition. You or other people may have noticed changes in:
Memory
Concentration
Decision-making
Language skills
Other thinking skills
We use specialised assessments to understand more about the problems you may have. This then means we can give you advice on strategies or care that you might need.
If you are also having difficulties with your mood, we can offer psychological therapy in an adapted format, taking into account any thinking problems you may have.
What to expect if you come to see us?
We often work with other teams to make sure your needs are identified as soon as we can. Part of our role is to give advice and training to other teams in order to do this.
You will have a first meeting with the neuropsychologist which will be a chance for you to get to know each other and get to understand your problems. This appointment is likely to last up to an hour and will most often take place in a clinic or hospital.
You will probably be asked to complete some questionnaires about your difficulties, either before the appointment or during your first meeting. When required, further appointments might involve pencil and paper tests.
Following the original meeting, we might offer:
Further 1:1 appointments to help find strategies to get round any thinking or emotional difficulties. Our 1:1 work is based around psychological/ therapeutic techniques, and also cognitive rehabilitation.
Psychological/ Therapeutic Techniques
We may use:
Cognitive Behavioural Therapy (CBT)
Compassion Focused CBT
Acceptance and Commitment Therapy (ACT)
Eye Movement Desensitising Reprocessing (EMDR)
Click here to find out more about these
Cognitive Rehabilitation
This involves relearning cognitive skills that have been lost or altered as a result of damage to brain cells/chemistry. Find out more here.

Chance to take part in a rehabilitation group.
Information about other services that may be helpful to you.
We also have self-help guides on topics e.g. managing memory, loss, mood, communication difficulties etc. We may use these with you in our work, but can also be particularly useful for you whilst you are waiting to see a member of our team (or if you are not directly accessing our service but still feel they might be useful). Please click here to access these guides.
Confidentiality
Details of your sessions are put on your medical record, but you can tell us if you do not feel ok with anything being shared with your GP or other members of your care team.
We will only talk about you outside the team when you give permission, or if we think you are at risk of harm and we need to protect you or others.
We will keep your GP and/ or consultant up to date by sending letters about your appointments so they know how you are and what you are currently working on – you will also get a copy of these letters.
Why this approach?
It allows us to support you with your individual needs, and work with you to best manage your difficulties. This approach can be adapted to what you are experiencing at any one time, and what will help you the most. We hope that by working together and making decisions jointly, we will allow you to feel supported and in control throughout - this is guided by information from the National Institute for Health and Care Excellence .
What do our patients say?
"On the whole I found the sessions to be most helpful and I believe they helped with my continuing recovery."
"It was like I was riding a bike with stabilisers and you helped me get free of them and start pedalling on my own" [after experiencing anxiety after stroke]
"I received excellent treatment from the Stroke Wellbeing Service. (SWS team member) helped me through my anxiety problems following my stroke. I now know how to control this with the methods suggested by them. I am very grateful for all their help and support during this traumatic time in my life."
"I was diagnosed with Temporal Lobe epilepsy in 2008 and have been pretty much troubled by it ever since.
In July 2021 I was fortunate enough to commence attending the Living well with Seizures Group run by (the Clinical Psychologist). Prior to attending these sessions I was suffering grand mal seizures on at least a monthly basis and absence seizures both unpredictable and variable. Both were having an enormous negative impact on my life.
Throughout the sessions we worked on several coping and managing strategies including the following:
Seizure Diaries
Identifying and understanding triggers
Stress management
Grounding techniques
SMART Goals
Setting and monitoring short and long term goals
All of the above were of a great benefit to me especially identifying the triggers, in my case anxiety and stress and developing my management of my seizures around them. It was of particular help to be able to discuss my condition without fear of being ridiculed or feeling weak in some way.
I found the more I engaged the more I benefitted, where I actually looked forward to the sessions.
Apart from one or two minor seizures in August of 2021, caused by stress, I have remained seizure free and have nothing but praise for the program and (the Clinical Psychologist) and her very approachable and understanding manner."
Please click here to see more general patient feedback.
Please also see the Neuropsychology Self Help Resources