Wellbeing Service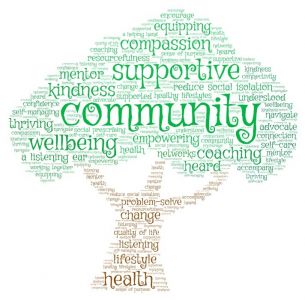 Referral Criteria
You can be referred to this service if:
You live and are registered with a GP practice in the Eden and Keswick & Solway areas.
You have a long-term health condition and/or have experienced a recent life change that is affecting your wellbeing.
You would like help to live a happier, healthier life.
Your GP, or any professional in your GP surgery or Integrated Care Community (ICC) can refer you to this service. If you are a health professional and unsure and would like to discuss a case with one of our team, click here for our duty consultation contact number. You can book an appointment to speak to us for further advice (this is not for patients - potential patients should speak to their GP/health team)
Who are we and what do we do?
We are a team of Wellbeing Activators and Living Well Coaches. Our clinical lead oversees the service. We are here to help you to understand how your health affects you, and to help you to think about different ways to manage on a day-to-day basis.
What are Living Well Coaches?
Our Living Well Coaches work into GP surgeries, and work with you on issues that may be getting in the way of you living a meaningful life. They will help you to set goals, and support you to achieve these. They may also give you information about other services that may be helpful.
If you cannot attend your local surgery, a home visit can be offered.
What are Wellbeing Activators?
Wellbeing Activators supervise the work that our Living Well Coaches do, and run all of our group programmes.
If you are living with a long-term health condition and/or have had a recent change of circumstance (for example, a bereavement or change/loss of job) we may be able to support you via individual and/or group support.
What to expect if you come to see us?
Individual Support
You can contact your GP or Nurse at your surgery, and they will arrange for a Living Well Coach to contact you.

Your first appointment with a Living Well Coach will last for around 45 minutes. When you first meet your Living Well Coach, you will work together to:
Consider your current life circumstances
Understand your strengths and how you are currently managing
Decide together on a plan to help improve your wellbeing and quality of life:
Think about ways to overcome barriers
Support you to increase social connections
Help you to look after you
Develop new skills/ways of coping
Access local support services e.g. Carers Groups, Benefit Organisations (with your agreement)
Group Support
We offer groups at different venues across Eden and Keswick & Solway. These groups are relaxed, educational and open to everyone aged 18 and over. The groups cover a range of topics including:

Loss
Sleep
Psychological Wellbeing
Healthy Choices
Menopause
Wellbeing for Men
Creativity Wellbeing
Keeping on Track
You can find our more about our current groups and how to sign up here.
Confidentiality
Details of your sessions are put on your medical record, but you can tell us if you do not feel ok with anything being shared with your GP or other members of your care team.
We will only talk about you outside the team when you give permission, or if we think you are at risk of harm and we need to protect you or others.
We will keep your GP and/ or consultant up to date by sending letters about your appointments so they know how you are and what you are currently working on – you will also get a copy of these letters.
How to access our service
The Wellbeing Service covers Keswick & Solway and Eden. If you are registered with a GP surgery in these two areas, you are able to access the service by talking to your GP Surgery.
Unfortunately at the current time we are unable to offer support for patients outside of these two areas.

What approach do we use?
We look at your social, emotional and physical health as a whole, an approach known as the biopsychosocial model.
Using this approach, the Wellbeing Service can help you to understand what is important for your overall wellbeing at this time and what will best enable you to plan, make and maintain positive changes.
What do our patients say?
Patient Quotes
"I am a totally different person to what I was a couple weeks ago. You were the right person at the right time. I was spiralling down and you planted a seed in my mind about my sphere of influence and control, and it has just stuck with me so much."
"I feel like I had been walking with my head down for so long and I really lacked confidence in myself. I was happy and smiling on the outside, especially at work, but the inside was a completely different story. Now I feel like I am walking with my head held high, and what is on the outside really truly is a reflection of what I feel inside."
"I didn't think talking to you would do any good but now I've been I've taken stuff away and I'm starting to make changes."


Patient Story - Joe
One of our Living Well Coaches met with Joe following falls related to drinking and a bereavement/death in the family.

Our Living Well Coach discussed the events leading up to the death with Joe, his role and also his marriage breakdown. They together discussed Joe's home situation, the events around the death in the family, how he was feeling and behaving. This was part of the assessment.
They together looked at how our behaviour can drive our thoughts and feelings, a CBT technique. Joe started to identify how this behaviour may push his wife away and result in an argument. They worked on how to approach a conversation with his wife and practiced this.
Joe went away and put what was discussed into practice. Joe came into the third session saying "you have changed my life".
Our Living Well Coach is continuing to work with Joe to build on the work done so far.
Please click here to see more general patient feedback.

Stay up to date and find us on Facebook here.